Contact us
If you have questions in regards to TicketWiz.us, please feel free to contact MegaEvents, Inc, the owner and operator of TicketWiz.us
Some useful information may be also found in Terms of Use, Ticket Purchase Policy, and our Privacy Policy.
TicketWiz.us by MegaEvents, Inc.
P.O. Box 720, Summit, IL 60501
phone: (708) 378-0102
email: info@ticketwiz.us -or- office@megaeventsinc.com
Contact form
For your convenience and to help you expeditiously, please complete the brief form below and a MegaEvents associate will contact you.
Upcoming events
No events in the database.
Check back soon!
Featured venue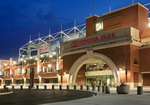 (East Parking Lot)
Bridgeview, IL 60455