Strawberry Festival 2023 (Week Two)
Promo
Join our VIP club for FREE parking!
Promo
Kids 3 & under get in FREE
Event schedule
Friday, May 12, 2022: 4:00pm - 10:00pm
Saturday, May 13, 2022: 2:00pm - 10:00pm
Sunday, May 14, 2022: 1:00pm - 9:00pm
Click here for FREE PARKING
Applications
Event info
Come one, come all to the first annual all-age Strawberry Festival 2023 in Bridgeview, IL.
Enjoy a weekend of lots of strawberries, huge carnival, delicious food, music, live entertainment and quality time with your friends and family!
See you at the Festival!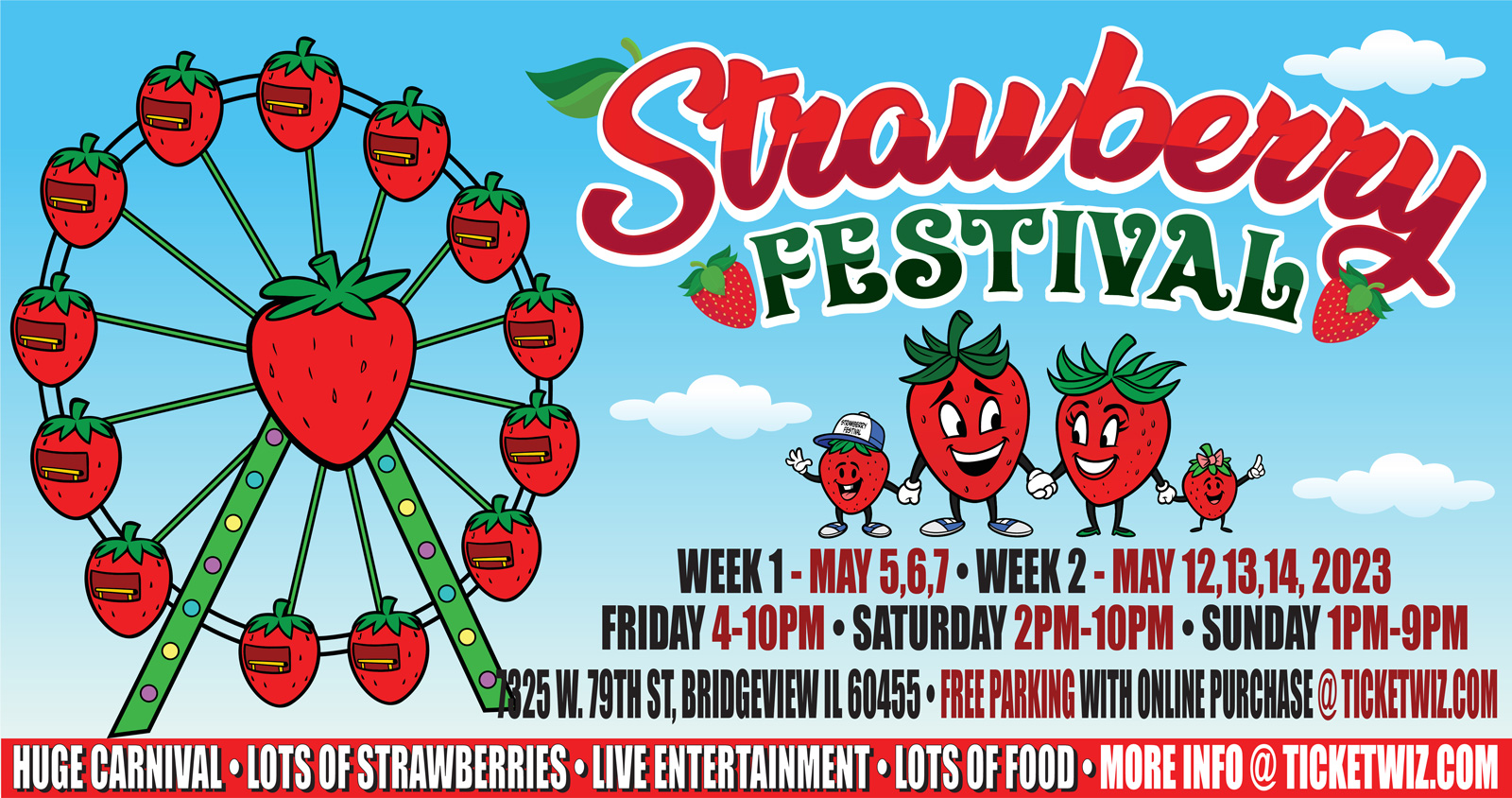 Press Release
Get ready for six fun-filled days of strawberry goodness as the official Strawberry Festival announces their upcoming Strawberry Festival for 2023.
Set to be held over two weekends from May 5th until May 7th and May 12th until May 14th, visitors will be able to indulge in strawberry infused foods and enjoy family-fun activities.
Located at 7325 w. 79th St. Bridgeview, IL 60455 (Southwest corner of Harlem Avenue and 79th Street in Bridgeview, IL) the Strawberry Festival promises to be a vibrant and exciting event that will delight families and groups of all ages. With so many incredible activities we offer, including a petting zoo, a unique magic show, and live music performances, the event is the perfect opportunity for families to spend quality time together and create long-lasting memories - all while celebrating the juicy goodness of array strawberry goodies.
Children will be able to interact with several cute animals and enjoy the carnival, while adults can sit back and relax to some excellent live music performances and sample delicious food.
The Strawberry Festival will also be home to some incredibly fun carnival rides, which are guaranteed to make any thrill-seeker smile.
"We are so excited to be bringing the Strawberry Festival to Bridgeview for everyone to enjoy!"
"This festival is the perfect way to enjoy time with family and friends and we can't wait to welcome everyone to this six-day extravaganza." Easily reached within just 10 minutes from Chicago, the event is easily accessible, and families are guaranteed to enjoy the rides and activities we will be providing."
From sweet strawberry treats to savory dishes, the festival will be home to a number of food vendors including chocolate covered strawberries, funnel cakes topped with strawberries, strawberry shortcake, strawberry ice cream and much more!
Admission tickets are available now at EventWizInc.com. Event organizers are delighted to be offering online ticket-holders free parking with every purchase, and kids under the age of 3yrs old get in FREE!
"If you're a local in or around Chicago and Bridgeview, get ready to indulge in all things strawberry."
"This event is set to be a huge highlight in Illinois." It's a weekend you won't forget. "FUN FOR THE WHOLE FAMILY."

*Admission tickets are available now at EventWizInc.com, and visitors are advised to purchase their tickets in advance to avoid long lines.
The Strawberry Festival event schedule is subject to change. To learn more about the festival and be kept up to date on all upcoming announcements, please visit the home page EventWizInc.com or join the conversation on Facebook.

For more information, please contact Jose Aldaco on Ticketwizevents@gmail.com or by calling 630-660-7842.
Show event info
Available tickets