Pumpkin Patch Festival 2021 (Week Four)
Promo
SIGN UP & WIN 2 TICKETS
Promo
Kids 3 & younger get in for FREE
Event schedule
Saturday: 1:00pm - 9:00pm

Magic on the Farm Magic Show (2:00pm)
KidBucks Game Show (3:30pm)
KidBucks Game Show (5:00pm)
Magic on the Farm Magic Show (6:30pm)
Magic on the Farm Magic Show (8:00pm)

Sunday: 12:00pm - 8:00pm

Magic on the Farm Magic Show (1:00pm)
KidBucks Game Show (2:30pm)
KidBucks Game Show (4:00pm)
Magic on the Farm Magic Show (5:30pm)
Magic on the Farm Magic Show (7:00pm)
Applications
Event info
Another annual Pumpkin Patch Festival is coming to Bridgeview, IL! This year the Festival is a FOUR-WEEKEND EVENT and is taking place on the Southwest corner of Harlem Avenue and 79th Street in Bridgeview (7325 W 79th St).
Bring the family, bring your friends and enjoy live entertainment, lots of pumpkins, and of course lots of fun! The event features a number of big attractions such as a pumpkin patch, corn maze, kids haunted house, pumpkin jumpers, Puppet Show, Magic Show, and a petting zoo!
There will be food selections from around the world. Last but not least, pumpkin pies, taffy apples, apple cider, cotton candy, corn dogs etc.
See you at the Fest!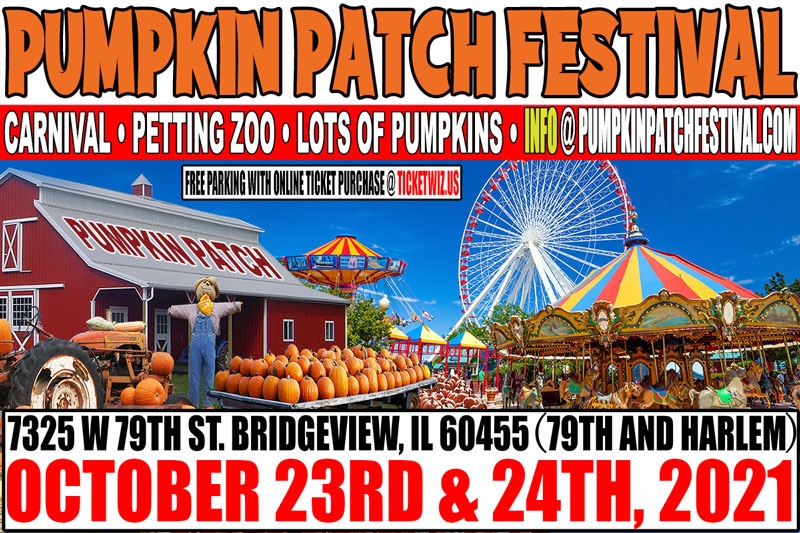 Show event info
Available tickets