Festiwal Muzyki i Skeczu
Promo
FREE PARKING with online ticket purchase
Event schedule
12 listopada, godz. 18:00-22:00
November 12, 6:00pm-10:00pm
Event info
"Festiwal Muzyki i Skeczu" to niebywałe i jedyne w swoim rodzaju wydarzenie muzyczno-kabaretowe, które odbędzie się już wkrótce w Tinley Park Convention Center!
To koncert, na którym trzeba być! To wydarzenie, na którym każdy jest VIP-em!
Dla naszej publiczności, zaproszone gwiazdy muzyki i kabaretu zaprezentują swoje najlepsze utwory i skecze. Wystąpią zespół "Weekend", zespół góralski "Ogórki Kapela", góralski kabaret "Truteń" oraz Andrzej Cierniewski.
Serdecznie zapraszamy wszystkich miłośników dobrzej zabawy, muzyki i humoru!
Więcej informacji już wkrótce!
Mark your calendars for "Festiwal Muzyki i Skeczu" live music and cabaret event at Tinley Park Convention Center! It is an incredible and one-of-a-kind music and cabaret event you must attend! This is an event where everyone is a VIP!
For our audience, invited music and cabaret stars will present their best songs and skits. The "Weekend" band, the Highlanders band "Ogórki Kapela", the Highlanders cabaret "Truteń" and Andrzej Cierniewski will perform.
We cordially invite all lovers of fun, music and humor!
More information coming soon!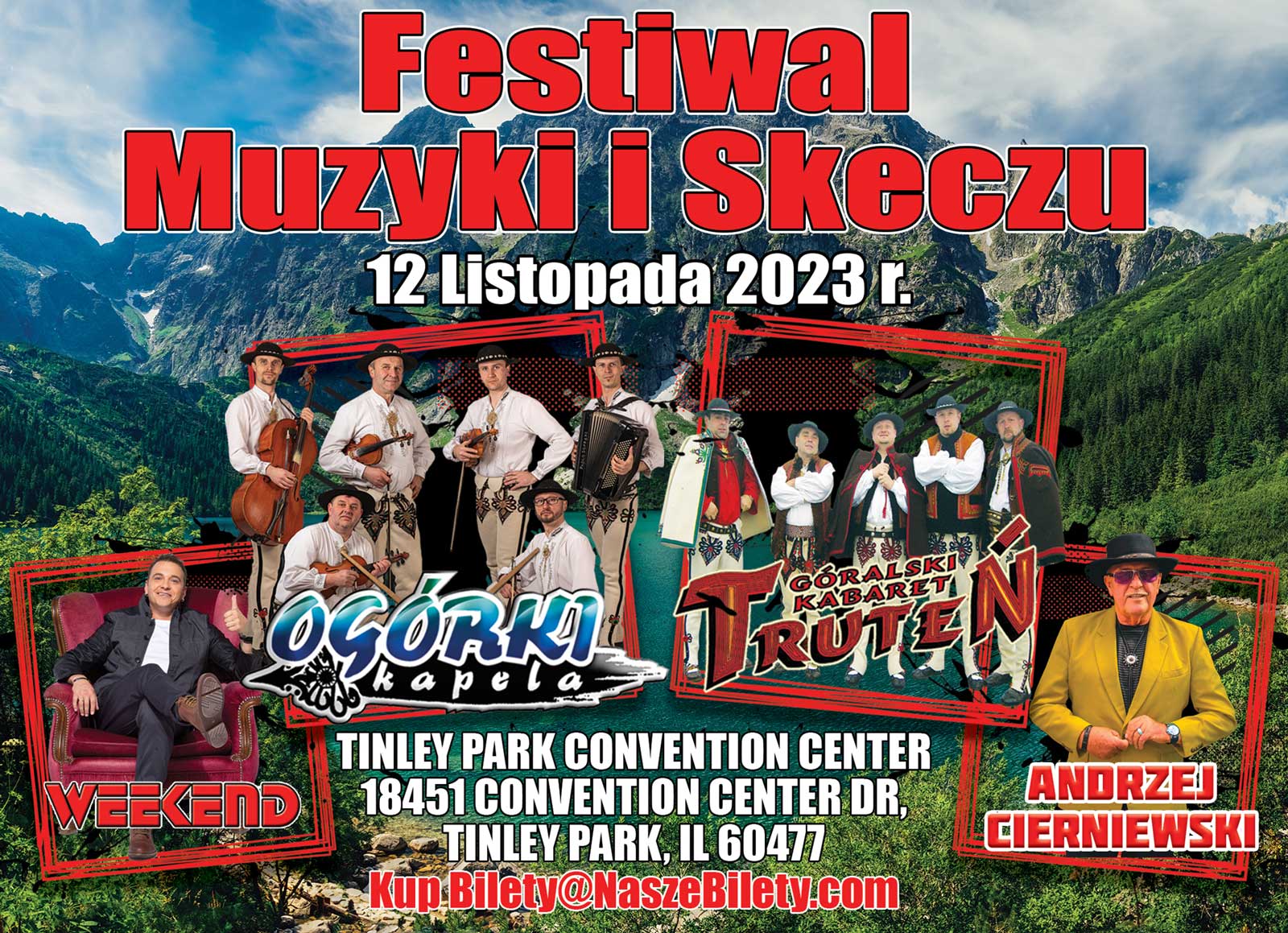 Show event info
Available tickets
Attention
For all online purchases, a ticket must be presented (printed or on device) at the gates in order to gain entrance.
This is a rain-or-shine event - no refunds or exchanges. Tickets are non-refundable.